The opinion of our customers about our service of Boat Hire Ibiza
Charter a boat in Ibiza was never so easy. Rent an economic boat in Ibiza, or in Formentera
with A30nudos.com. Check availability before booking your boat by telephone in the (+34) 620 206 399. We are open to any time. You can also do it by e-mail, write to us in the info@a30nudos.com.
Choose one of our best Boat Rental in Ibiza.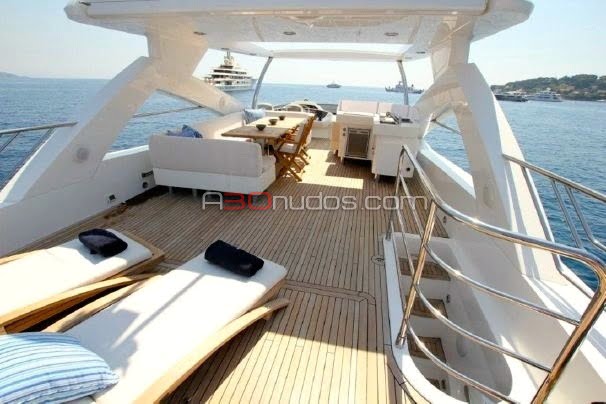 In Ibiza you have plenty of things to do in a boat, from visit beautiful beaches, to discover small bays that are not normally accessible by another kind of transport. You will discover incredible
cliffs, with crystal clear waters completely sheltered from the wind and curious caves steep in them… In the island of Ibiza you have great variety of landscapes, all of them with a charm out of the ordinary, almost magical, thanks to its mix between turquoise waters with the Costa Verde and wooded, and the coast, a contrast of colors that are a delight for the eyes. The scroll in boat by the Pitiusas coast offers you the opportunity to relax like never before, giving you direct access to inaccessible places from land, which allows you to explore places of great beauty and tranquillity and little frequented, and far from the crowds of people with which you can find in other parts of the island.
People from all over the world put their trust in us to make them holidays different, whether in a
Day Charter or in long stays. It is for this reason that we feel with great responsibility when
comes to us a query requesting information. Therefore, if you are looking to rent a boat in Ibiza,
we are what you need. We have a wide variety of boats in the port of Marina Ibiza and Marina Botafoch (in the municipality of Ibiza) and we have a wide range in both price and lengths. Sure that transports you to the boat that suits your tastes and needs.
Explore our site and find the type of boat you need. We can offer you from small boats to large ships, enjoy sailing in Ibiza, Car sailing and other fun activities such as jet skis.
Personalized Attention
We listen to your needs
Proven Experience
More than 15 years sailing in Ibiza
Half Day budget
Price range
Very good service. The boat was deluxe, perfect without skipper to sail around Formentera. The complimentary beverages and brand new goggles are also a nice touch. I recommend.
What a wonderful trip from Ibiza to Cala Saona. Unbelievable the color of the water and how clean it is.And what to say about the way back to Ibiza, with the sun set on the back of Salinas.Big thx to all the team, your explanations and advice made the day so amazing.....A30NUDOS, you rock!!!!!!!Best
went to a boat party was the best time i ever had scenery atmosphere all amazing another world sun and sea
As a first time visitor to the island of Ibiza i must say I was amazed. A beautiful place to visit for sure and if you do...make sure you get in touch with this company. I was told by a friend to do so and I must say the service was outstanding!!!I was treated professionally and with respect. There was always a smile on their face and the predisposition to go far beyond what is required just to please the client. Afordable prices and great quality boats!!Bryan